HOWTO supervise customer equipments
Why do that¶
In a cybersecurity context you have to raise alerts when some equipments of your customer become silent, in order to have a strong supervision. The goal of this HOWTO is to show the mechanism to track efficiently the customer equipments.
There are two goals :
To have a kibana dashboard with all equipments in real time
To raise alerts when a device doesn\'t send logs during a specific period of time.
Prerequisites¶
This HOWTO concerns only Log Management platforms (LMC) because it uses the result of Parsing.
You need : - a processing cluster (apache storm) - a queuing cluster (apache kafka) - an indexing cluster (elasticsearch) - an alerting motor (elastalert)
What to do¶
Understand the supervision chain¶
To reduce the equipment supervision impact on the platform performance, we have implement several mechanisms :

Configure the processing to keep only the last seen equipment¶
This type of processing runs in apache Storm. We use a stateful punchlet to convert many events per host by only one equipment message with the last timestamp seen.
The punchlet update in memory a map containing all equipments. At each period configured in "punchlet_tick_frequency", the map is sent to the next component (elasticsearch or kafka).
Take a look first on your PunchPlatform configuration to keep a more recently version of the Punch - resources/punch/standard/common/). For example : equipments_supervision.punch.
HOW TO use it ?¶
Simply add the punchlet to your processing topology
Configure the next component to send theses messages in the right elasticsearch
Warning
the format of theses messages are different from the events. You have to custom your configuration. Take a look on the last section of the documentation.
Configure your Kibana to construct the equipment supervision dashboard¶
Add a new index pattern¶
The default value is equipments--supervision
Construct your dashboard¶
A good point may be to display:
the count of equipments
the repartition of equipments by channel/technology
the repartition of equipments by time
the list of equipments (search)
the repartition of alerts if configured
the content of alerts if configured
For instance :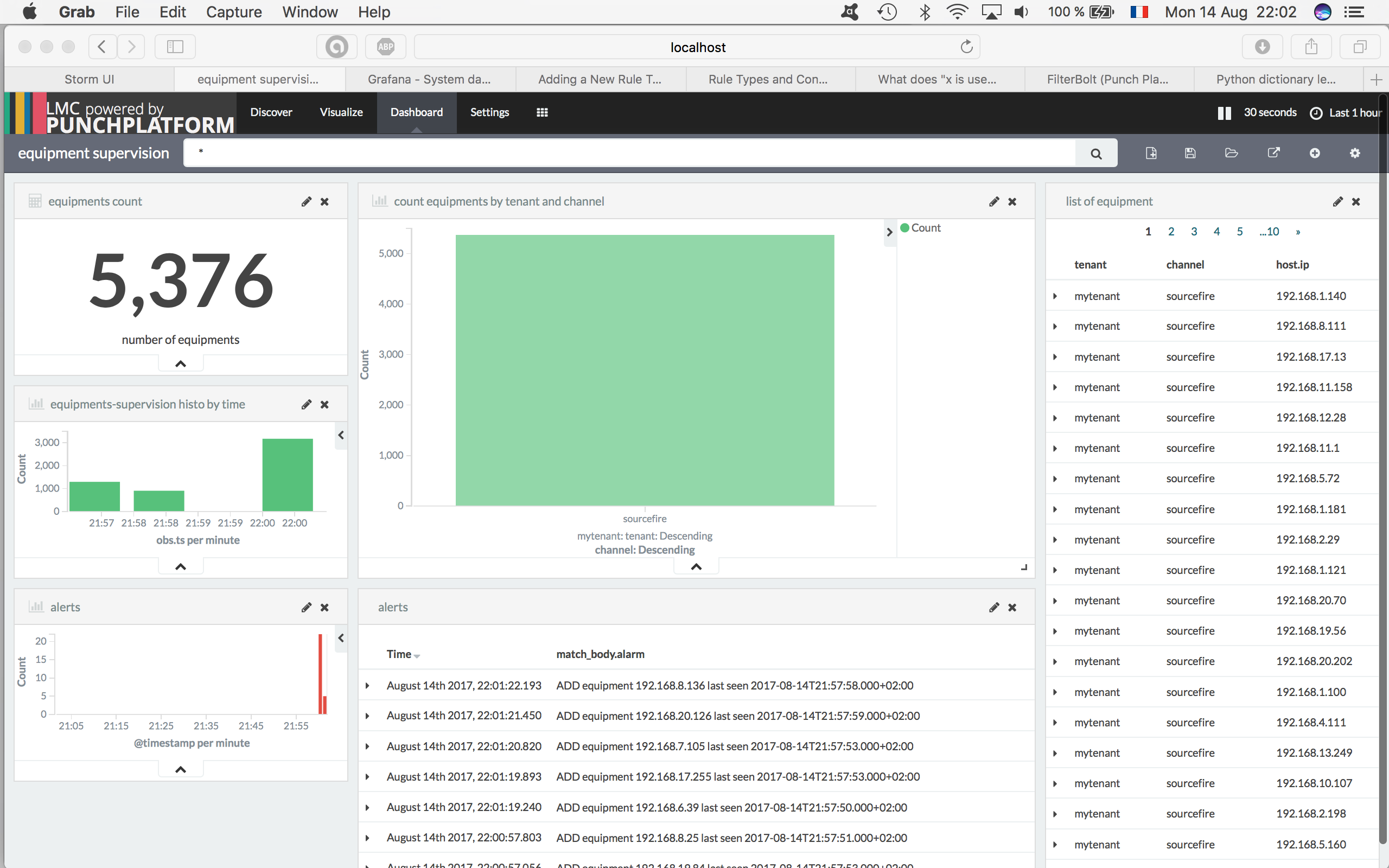 Configure the Alerting¶
The PunchPlatform provides the specific Elastalert type of rule called SupervisionEquipmentsRule.
You have to filled the following parameters:
field: the field of the equipment, for instance "host"
timestamp_to_track: the timestamp to check the health of the host, for instance "obs.ts"
buffer_time_monitoring: the period of time to check the health. If timestamp_to_track is not in the last buffer_time_monitoring, an alert is raised. For instance: minutes: 5
Schedule alerting in Shiva¶
The PunchPlatform provides a resilient backend to run scripts called Shiva.
With shiva, you have :
Resilience
Monitoring (PunchPlatform Admin)
Configuration management (git)
Example of configuration is coming soon. Please wait by reading the Shiva chapter.
Additional explanations¶
Equipment message structure¶